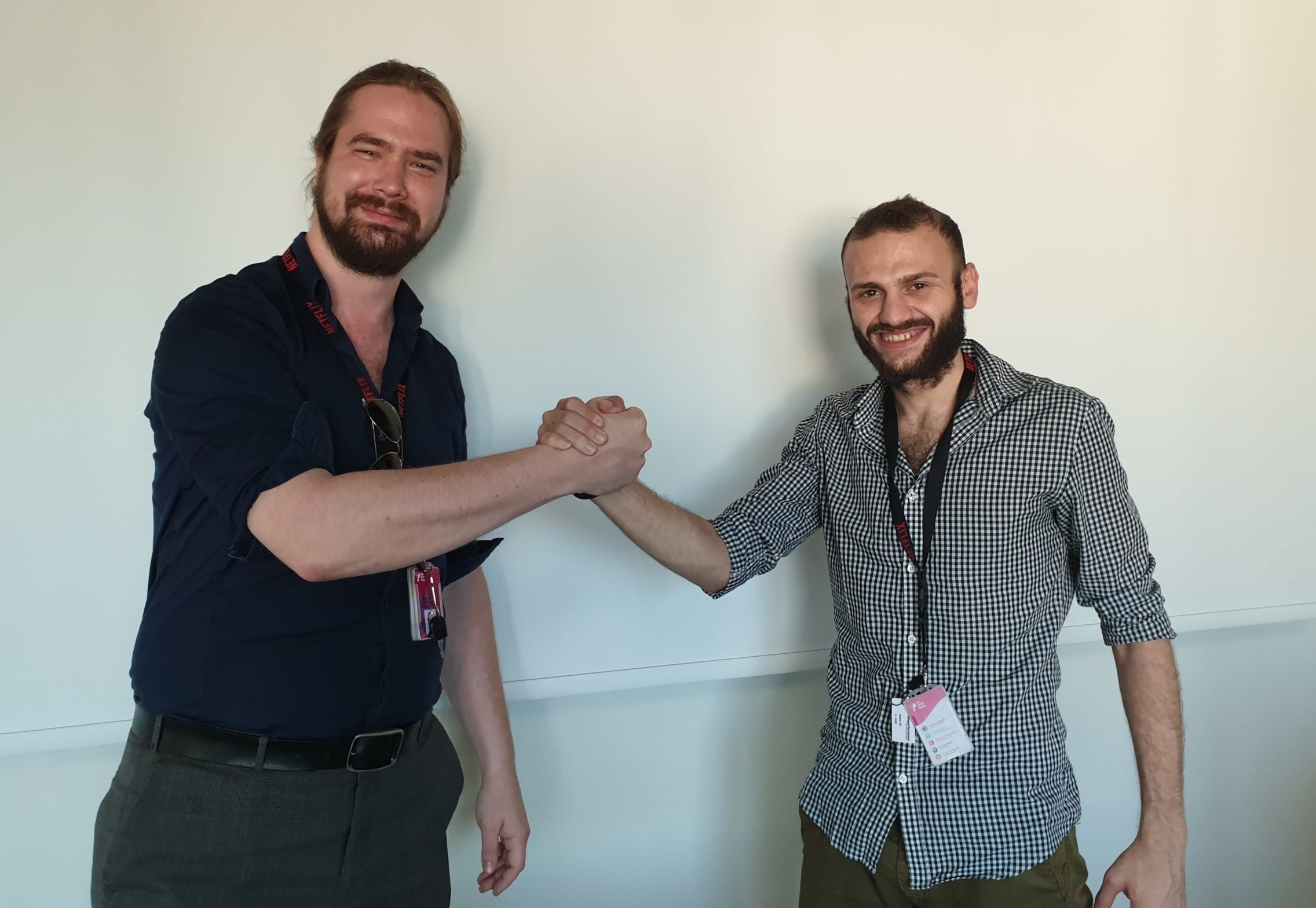 People's life stories indicate their past that -in turn- defines their present and therefore their future. Following this, could the life stories of two people be so disparate, but in the meantime, so complementary that they turn out to intersect in the same setting, at Teleperformance Greece?
The pursuit of their own "happiness" brought two people to Teleperformance Greece. The one was born and raised in Norway, a country that is well known for its economic growth and well-structured governance. The other was coming from Syria, the land of war, pain, and sorrow for a lost country. However, a question arises: How these lives converge at this point, given the fact that they commenced from entirely distinct starting points?
Robin's story
Asking Robin why he left Norway, while so many people in Greece are willing to move to the Scandinavian country, he replied bluntly, "Our daily lives are so strictly organized that rarely something happens out of the blue. There are no surprises. Everything seems like a predetermined routine."
Following this, he explained himself, "Since I finished my studies, I got a job right away, which enabled me to travel a lot. However, I still wanted to break free from this predictable way of life, and honestly, I am glad I did. I lived in the UK and France; I was in Mexico and Thailand for a certain time before ending up in South Africa, where I decided to stay."
Nonetheless, the big question remains, "How did Robin find himself in Greece?". "After spending three years in South Africa, my visa would expire; hence I had to go back to Norway and stay there for three months to renew it again. As I was considering my options, I came across a job posting regarding an available position for people who speak Norwegian in Teleperformance Greece, so I applied, and -fortunately- I got hired. To be honest, I've always wanted to live in Greece, but I didn't have the chance, and that was an ideal opportunity. When I started living in Athens, I adored the culture and lifestyle; therefore, I forgot all about South Africa, and I decided to stay permanently here. It goes without saying that the fact that I got promoted fast from agent to supervisor, and most importantly, that I met the woman I live now with played a catalytic role in my final decision," Robin said.
Ahmed's story
Some 'fairytales' also have darker sides. More specifically, Ahmed spent most of his life in Syria, where he was following a clear and well-lighted path that he never imagined that it would end up steep and stony. Actually, he was studying in College, and at the same time, he was working as a journalist for major global news networks. "I thought that everything was going fine, my life was an upward journey, and nothing could change. And then the war broke out, and the ISIS appeared. One of their first violent acts was to kidnap seven journalists; I was taken as a hostage as well. In fact, five people were executed next to me, and I haven't understood yet how I managed to survive," Ahmed said.    
"When they freed me, I tried to flee the country, but this was extremely difficult. I wore the burqa and dressed up as a woman because women are not allowed to show their faces in public, so I contrived to reach the borders and escape. Just imagine that I didn't even get to say goodbye to my family, and I haven't seen them ever since."
The escape
Then, Ahmed managed to get to the borders between Syria and Turkey but did not hold his passport with him, so it was impossible to leave the country. "To my good luck, a cousin of mine that was living in Damascus applied to get me a new one, and after waiting there for two weeks, I was eligible for entering Turkey. At this point, it is worth mentioning that Turkey is an expensive country, and although I had saved up some money, I knew they wouldn't last for long. I tried to continue my studies at the university there, but the fees were depleting my savings even more rapidly, and I couldn't find a job either. However, a friend helped me start working again as a journalist for global news networks, and also, we were living together at the same house with three compatriots, and things seemed to go slightly better," Ahmed told us recounting his life story.
Nevertheless, things didn't work out as expected. "There is no escape in the time of war. After a while, they started chasing those who left Syria. As journalists, we were seen as easy targets. When I returned home one day, I saw that all my friends had been killed and I immediately packed up my things and left. I had managed to escape death for the second time. After that, I reached a guy that transports refugees, I paid him and hopped on a boat, crossed the Aegean to get to Greece."
"It's tough to go on, but when life gives you second and third chances, you have to take them. In Greece, at first, I worked at the refugee hotspots, as I quickly managed to obtain a residence permit. I met my wife there, with whom we have been married for a year now, and we are expecting our first child. I found myself in Teleperformance Greece through a friend who was working here, and luckily they hired me, and now I am happy."
"Greece is my country, my present and my future"
Two vastly different stories. An immigrant by choice and a refugee who migrated out of necessity. They come from entirely dissimilar backgrounds; however, they are now finding themselves under one corporate roof. Closing down the conversation, we wondered if they think that Greece is the country they want to settle down permanently and whether Teleperformance Greece provides them everything they need for their personal development.
"Now, I am considering Greece, my home, and Teleperformance Greece, my company, and, given that my job title is ACM (Assistant Contact Center Manager), my future is here, too. The land in which I felt like home from the very first moment," Robin said. "I love Greece and the people here, and I think that Teleperformance Greece is the company that will ensure my future professional success. You are always dreaming of your homeland, but now Greece is my country, my present and my future."
Ahmed, for his part, hasn't seen his family for years. "Someday, I'll meet them again. I wish -and believe- that this will eventually happen. Someday, I'll be ready to bring them here. In my new country. This is my dream. Greece is my homeland now."
Article by Alkis Kakoliris