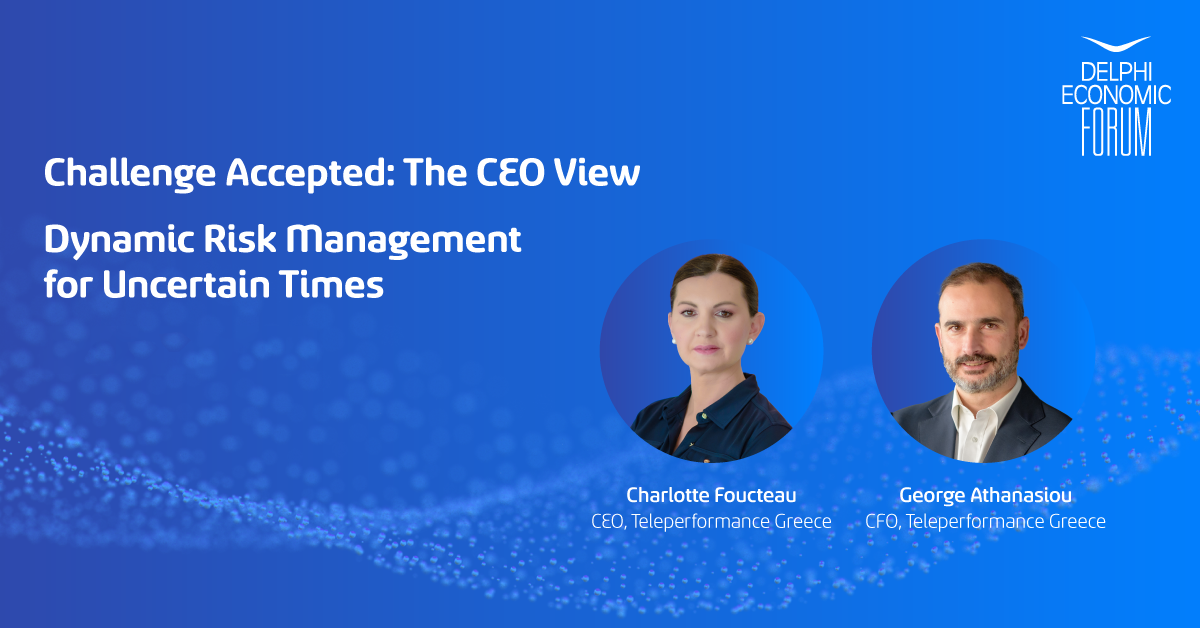 Embracing innovation and sustainable growth is part of our philosophy, in this context, we're thrilled to have participated in the Delphi Economic Forum as a sponsor for the first time, on April 27th!  
Delphi Economic Forum engages political, economic, business, academic, and other thought leaders to address emerging challenges, influence the national and regional agendas and promote sustainable and socially responsible growth policies for Europe, the wider Eastern Mediterranean and Greece.  
Our participation in the Delphi Economic Forum
Our CEO and CFO participated in the panel discussions: "Challenge Accepted: The CEO View" and "Dynamic Risk Management for Uncertain Times", respectively:
"Challenge Accepted: The CEO View" 
Our CEO, Charlotte Foucteau, participated in an interesting discussion about the challenges of leadership in the new era of virtual and augmented reality environments. She analyzed how we're integrating digital transformation into our services and operations, and what it means for the future of our company.  
More specifically she stated that "The digital transformation has transformed our core business! But behind digital transformation lie our people, and our main priority is to make their day-to-day work as easy and efficient as possible. When a company strives for success, it should empower its team members and provide them with the opportunity to develop their talents, particularly in today's challenging environment".  
She also highlighted that it should be the responsibility of all leaders to show their teams that we need to be open minded, ample and embrace continuous learning and improvement". 
"Dynamic Risk Management for Uncertain Times" 
Meanwhile, our CFO Giorgos Athanassiou, joined the panel discussion titled "Dynamic Risk Management for Uncertain Times" engaging in a thought-provoking discussion about the future of risk management in the ongoing transformation of the economy and the development of technology. He also emphasized our vision to strengthen the resilience and flexibility of our organization to cope with modern challenges. 
In his speech he stressed that "Greece was able to reinvent itself while coping with the difficulties arose from the economic crisis. Similarly, Teleperformance has managed to overcome any challenges that have emerged in recent years, adapting to the changing environment." 
Discussing the recruitment challenges, he stated "We have created a friendly and flexible working environment for all our employees. Additionally, we have created models that are more automated, faster, and more efficient by leveraging the potential of the Fourth Industrial Revolution". 
Our Mission and Vision
Our participation in the Delphi Economic Forum serves as one more testament to our commitment to integrating innovation, digital transformation in all our operations, as a leading company in the digital business services industry, while promoting sustainable and competitive growth.   
Learn more about our mission and vision.