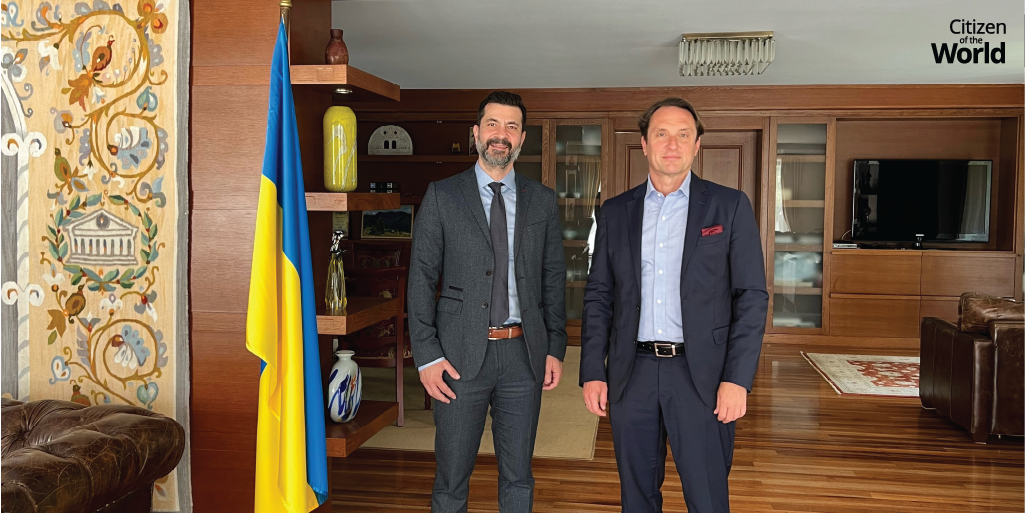 On our journey together, we have learned that great things are accomplished when we are working as one team and supporting our fellow human beings when they need it. During times of crisis, our team's commitment is stronger than ever. As an international family, we support those affected by this tragic event.
On the occasion of our company's support for Ukrainian citizens, our Chief Human Resources Officer, Mr. Alexopoulos, and the Ambassador of Ukraine to Greece met at the Embassy of Ukraine in Athens on May 24th, 2022.

Citizens of the World in action:
The social responsibility program is part of our corporate culture, and we are always ready to help! As a company, we have taken numerous actions to express our deepest sympathies and complete solidarity with the people of Ukraine.
More specifically, we're ready to help in any way possible! Teleperformance has made a financial contribution to Red Cross and UNICEF. TP Group organized a crowdfunding campaign encouraging employees to support this emergency effort through their donations. Up to date, TP Greece employees have donated more than 4.000€.
In April 2022, TP Greece donated medical equipment to help meet some of the Ukrainian's needs. The donation is worth €83.999,92. The equipment was delivered to the Peace and Friendship Stadium (SEF) in early April, in collaboration with the authorities and under the supervision of the Embassy. 
The donation includes an automatic defibrillator, a portable ventilator, surgical instruments, and an ultrasound machine. The contribution of medical equipment to Ukraine is an example of our commitment to receiving a sustainable outcome for the people there.
From March 2nd to 8th, a collection of Medicines and First Aid Items was arranged by TP employees in collaboration with the Consulate. Featuring high-end and top-of-the-line medical supplies, we were able to collect 11 large boxes with Ringer Solution, Normal Saline/IV Fluids, Painkillers, Antibiotics (Injectable), Sterile Gloves (Size M, L), Syringes, Infusion System, Catheters, and other items. The value of the donated items is €12.100. Those medical supplies will help meet some of Ukraine's needs, especially considering its most urgent health problems.
Together, we will make it through this difficult time!