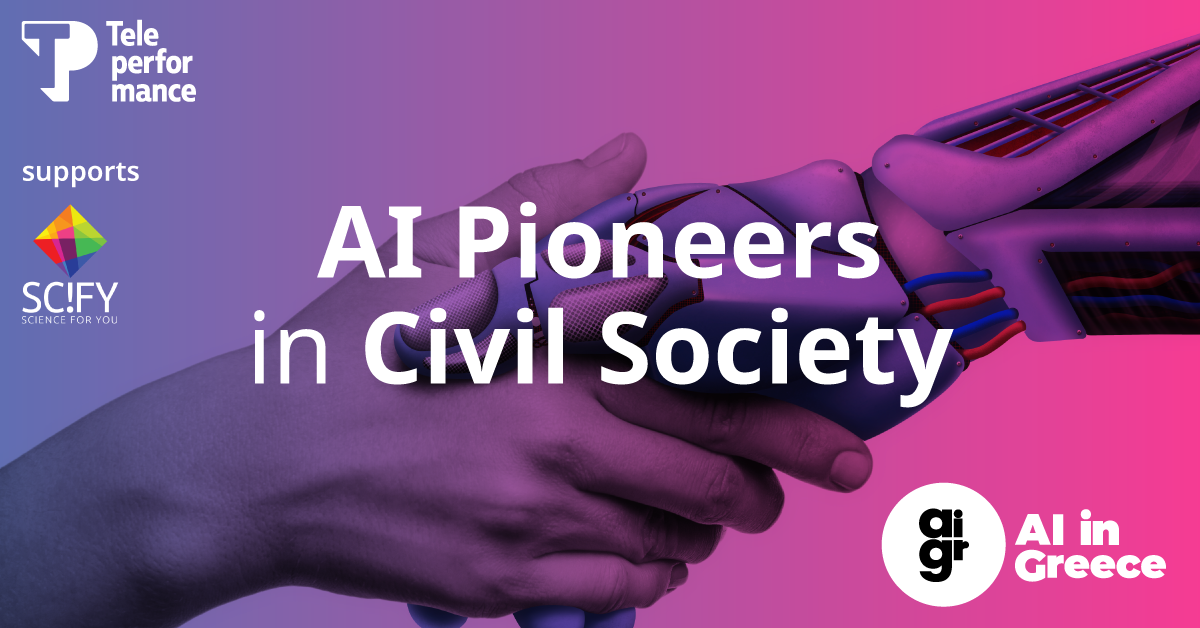 Today's environmental, social, and economic challenges require us to analyze big data very quickly to know how and where to act. Artificial intelligence is proving to be one of the most powerful technologies available in order to deliver more efficient and effective results.
AI Pioneers to empower people
At Teleperformance in Greece, we recognize that artificial intelligence (AI) continues to be the driving force behind some of the most transformational organizations in the world today. Thus, we remain true to our commitment to promote innovation and digital evolution.
In line with this commitment, we have provided support to SciFY, enabling them to implement training programs for non-governmental organizations, active in various fields (environment, support of vulnerable groups, youth empowerment etc.), to understand what AI is, and enable them to understand how it can be integrated into their operations through seminars and workshops.
Supporting "Science for You"
The educational program has been developed and will be implemented by the organization 'SciFY – Science for You.' It is designed to provide training and educational resources to non-profit organizations. The goal of this endeavor is to empower non-profit organizations with new knowledge and skills that they can utilize to make a more significant and positive impact on society and the environment.
These initiatives are making strides in education and empowerment and fostering a profound understanding of the transformative potential of artificial intelligence. It's a story of unity, curiosity, and the boundless possibilities that lie ahead.
The 1st workshop with SciFY
On October 17, Odysseia, Desmos, Tipping Point, and Mexoxo came together for their first A.I. training event, organized by Teleperformance and SciFY. With an air of anticipation and excitement, they embarked on a journey to unravel the mysteries of intelligence and explore the world of A.I. training while envisioning its practical applications. Their collective exploration covered the fundamental tasks that A.I. can accomplish and provided invaluable insights into where and how A.I. seamlessly integrates into real-world scenarios.
The 2st workshop with SciFY
On November 7 we joined the second workshop with SciFY. In anticipation and excitement, three new NGOs set out to unravel the secrets of intelligence and explore the world of AI education and training. Together, they explored the fundamental tasks that artificial intelligence can accomplish and how it integrates seamlessly into everyday life.
We are inspired to care
Teleperformance, being the largest provider of "Digital Integrated Business Services" in Greece, stays true to its commitment to promote innovation and digital evolution. In the broader context of our strategic corporate social responsibility program and initiatives aimed at a better future for society. This is where technology is going to make a tremendous difference in the way we interact with one another, making it easier, faster, and safer for all of us.