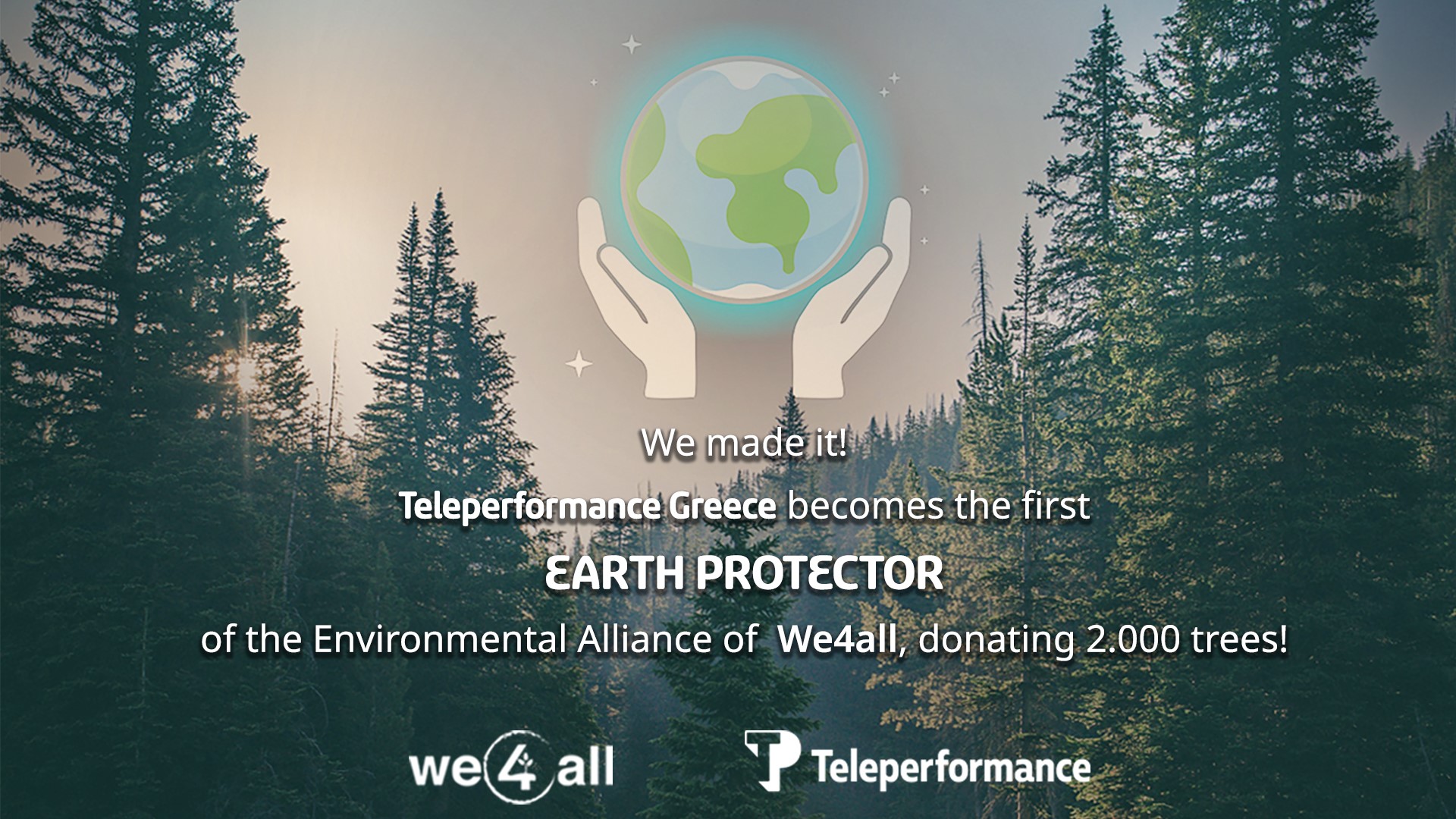 Green is the color of hope
"Green is Earth's music for those who listen, and the medicine of our mind's pain," they say. At Teleperformance Greece, we stand by that statement by focusing our efforts on the environment's immunity time and again. This year's Earth Hour Day celebration on March 27th comes to bring more motivation, as well as the means to support our cosmos-preservation commitment.

It's time to take action
Earth Hour is a worldwide movement organized by the WWF. Every year, on the last Saturday of March, all communities worldwide are encouraged to turn off non-essential electric lights from 20:30 to 21:30, pause electricity wastage, and send out a critical message for environmental sustainability as a symbol of dedication. This year is different. Teaming up with global organization We4All, we launch an inspiring call-to-action campaign, thus amplifying the core message of this special occasion while at the same time making a substantial contribution to nature's health.
Let us present you We4All
We4All's essence is to help the planet heal itself and to remind people it is our only home, so that everyone gets a move on before it is too late. They are considered a pioneer in their field of expertise and their milestones speak for themselves. Their "Green Attica" reforestation project is one of their many initiatives that inspire us, offering us the incentive to join forces with them and uphold their cause. By re-planting thousands of trees in Attica's municipality, We4All takes small steps to combat essential issues such as global warming, animal extinction, and air pollution.
The power is in the palm of your hands
Using social media's collective power, we made an open call for participation in our collaborative course of action, resulting in a game-changer for our upcoming endeavors. All people had to do was to engage with the corresponding posts. Teleperformance Greece donated 0,20€ for each engagement, and all proceeds were used for "Green Attica". This stirring movement met with an overwhelming response, raising enough funds to purchase 2.000 tree seedlings. For this significant success, we are granted the prestigious Earth Protector Badge by We4All.
Protecting the Earth starts with you
Taking a minute to realize what we accomplish each time we stand united, we cannot but decide to be even more involved in our planet's conservation from now on. This magnificent operation's success may be our first joint attempt, but definitely not the last one. This is just the beginning, and we are very excited! Thanks to your invaluable and overwhelming participation, we proceed to a promising long-term partnership with We4All that will bring spectacular joint enterprises between the two sides, providing a relatively small but significantly valuable contribution to the ecological balance of our natural scenery.
The best is yet to come
We care for the surrounding universe, just like we care for our people. Against the odds of our very challenging times, even when we have to overcome some obstacles, we never stop striving for a better world. With powerful and dedicated allies such as We4All, one thing is certain: Nothing can stop us! Stay aligned with our impending actions. Stay tuned for a better future for us all!
Be part of our remarkable CSR initiatives to come by joining our big family.